Protect Your Child from Florida Car Accidents with the Right Safety Restraints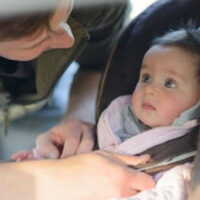 It is the law in Florida to secure your child in some type of safety restraint depending on age and size, but the statistics should convince you that a fine for noncompliance is the least of your concerns. According to the US Centers for Disease Control and Prevention (CDC), there were 675 children aged 12 years old and younger killed in motor vehicle collisions in 2017; another 116,000 victims in the same age ground were injured in such incidents the same year. Of the children who died in these crashes, more than one-third were not buckled up.
However, even when you know the laws and risks of not securing your child when riding in a vehicle, choosing the right safety restraint can be a challenge. With some tips on selecting the right car seat, you can protect your child from fatal and injury-causing Ocala car accidents. 
Statistics on Child Passenger Safety: Additional data from the CDC, National Highway Traffic Safety Administration (NHTSA), and other sources should convince you how important it is to properly secure your child anytime he or she rides in a vehicle:
Motor vehicle accidents continue to be a leading cause of death for children aged 1-13 years old.
In 2017, an average of three children were killed every day in auto collisions.
That same year, 49 percent of 8-12 year old children were not buckled up, compared to 36 percent of kids aged 4-7 and 22 percent of those under 4 years old.
Almost two-thirds of parents that do attempt to secure or buckle up their children are doing so incorrectly. It is estimated that 59 percent of car seats and 20 percent of booster seats are misused to the point of being ineffective.

Choosing a Safety Restraint for Your Child: Because mistakes in buckling up children can lead to death or injuries, it is important for parents to select the right type of safety restraint for their children. 
Rear-Facing: Infants and young babies are better protected when they ride in a suitable car seat in the back, facing the rear of the vehicle.
Forward-Facing: Toddlers with better developed musculoskeletal systems can face forward, but must still be secured in a car seat in the back.
Booster Seat: Older children are safe in a booster seat that elevates them a few inches, so that the vehicle's factory-installed seat belt fits snugly around the shoulder and lap.
Seat Belt: All children under 18 years old must wear a seat belt when seated anywhere in the vehicle. Note that occupants in the car are required to buckle up when riding in the front seat.

Contact an Ocala, FL Car Accident Lawyer to Discuss Your Legal Options 
While choosing the right car seat and safety restraints protect children in the event of an auto crash, these devices cannot completely eliminate the threat. If your child was hurt, please contact the Ocala car accident lawyers at the Musleh Law Firm to learn more about your legal rights. You can schedule a free consultation at our office by calling 352-732-0600 or going online.
https://www.ocalalawyer.com/6-to-dos-on-your-florida-post-car-accident-checklist/