What to Know About Ridesharing Accidents in Florida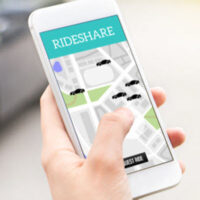 Ridesharing services like Uber and Lyft continue to gain in popularity around the world. They are a convenient way to get to your destination, especially to and from airports. Many people use them in lieu of taxis, especially in cities where taxis are expensive, unreliable, or not necessarily safe. In Florida, rideshare services are popular options over renting a car for travelers visiting the theme parks. With more rideshare vehicles on the road, it probably comes as no surprise that the number of accidents has increased, and this presents a number of legal challenges.
If you are driving your vehicle and are struck by an Uber or Lyft driver, you may be wondering who will pay for your damages. What about if you are a passenger in a rideshare vehicle when it is struck? If you are injured in a Florida accident that involves a rideshare vehicle, it's important to reach out to an experienced Ocala auto accident attorney right away.
Rideshare Driver Insurance
Florida is a no-fault insurance state. This means that all motorists must carry at least $10,000 in personal injury protection (PIP) coverage and $10,000 in property damage liability coverage (PDL). In 2017, Florida legislation passed a law that requires rideshare drivers to carry one million dollars in liability coverage that extends to property damage, injury, and death. This is above and beyond the requirement for a minimum of $10,000 in PIP coverage. If the driver has the app in use, he or she must have a minimum of $50,000 in physical injury or death liability coverage.
Depending on whether it's Uber or Lyft, there may be additional coverages available through the company. Uber carries coverage that matches Florida law, and there is also coverage if their driver is involved in an accident with an uninsured or underinsured driver. When there is a passenger in the vehicle, the Uber policy may be activated, and it would trigger the one million dollar limits. If the driver is looking for a ride, then the lower limits would apply.
What Happens if You're the Passenger in a Rideshare Vehicle?
If you are the passenger in a rideshare vehicle, you may be concerned about what happens in the event of an accident. If the rideshare driver was at fault, you can look to their policy to recover damages for your injuries. If the other vehicle is at fault, you can pursue a claim through them.
Contact a Florida Personal Injury Attorney Today
Being a victim of a rideshare accident where you are injured is stressful, no matter whether you were a passenger, driving the other vehicle, or even were a pedestrian walking down the street when you were struck. No matter what the circumstances are in your particular situation, the fact remains that rideshare accidents can be complex. From a legal standpoint, dealing with liability and insurance in rideshare accidents is relatively new. This is why you shouldn't attempt to handle your claim without the assistance of a knowledgeable Florida personal injury attorney.
If you or a loved one were injured in a rideshare accident, contact the Ocala car accident attorneys at the Musleh Law Firm today and let us help you recover the financial compensation you deserve.
https://www.ocalalawyer.com/many-drivers-tune-out-when-using-automated-vehicle-safety-systems/