Following 5 Traffic Laws Can Help Riders Prevent Florida Bicycle Accidents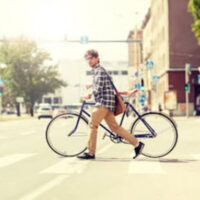 It takes just a few vehicles rushing past you at high speeds to make you realize how vulnerable you are to bicycle accidents when riding around Central Florida. As such, you take proper safety precautions to avoid injuries, such as wearing a helmet and inspecting your bike before heading out. However, you might not realize how following a few simple traffic rules can make a big impact on preventing bicycle accidents. One of the first and most notable laws is a key statement within the Official Florida Driver License Manual: Bicyclists must obey all traffic controls and signals, a provision many riders forget or ignore.
Still, there are additional regulations that can help you protect yourself when biking. It is wise to work with an Ocala motor vehicle accident lawyer if you are injured, but you should review some important traffic laws that may prevent you from becoming a victim.
Proper Usage of Bicycle Lanes: Bicycle riders must use a designated bike lane where one is present, but many rural roads around Ocala, FL do not feature a separation. In such a situation, you should stay as far right on the roadway as possible. You can use the full traffic lane to make a left turn or avoid a road hazard, and you are allowed to ride far left on one-way streets. 
Use Your "Blinker" When Turning: Bikes do not have turn indicators like motorized vehicles, so you must employ other tactics to let others in traffic know about your intended maneuver. Hand and signals are your best tool as a blinker, so raise your non-dominant arm to the left or right to indicate a turn. 
Florida's Bicycle Helmet Law: While it may not prevent bike accidents from occurring, a helmet can help you avoid serious head injuries. All bike riders and passengers under 16 years old are required to wear head gear that meets federal safety standards. Older individuals should also consider donning a helmet, as head injuries account for around two-thirds of all bicycle accident deaths and injuries. 
Implement Proper Equipment: When riding between sunset and sunrise, your bicycle must be equipped with a front-mounted white light that is visible from 500 feet. On the rear, you must have a red reflector AND a red light that is visible from 600 feet away. In addition:
Your brakes must be able to stop your bicycle within 25 feet at a speed of 10 miles per hour.
You are prohibited from wearing earphones or earbuds while biking on Florida roads. 
No Drunk Bike Riding: It is against the law to ride a bike with a blood alcohol concentration of .10 percent – higher than the legal limit for driving a motorized vehicle.
Contact a Florida Bicycle Accident Attorney for Legal Help 
If you were hurt in a bike collision caused by a negligent motorist, you may be entitled to recover compensation for your losses. To learn more about your rights, please contact the Musleh Law Firm in Ocala, FL today. You can set up a no-cost case assessment by calling 352-732-0600 or checking out our website.
Resource:
flhsmv.gov/handbooks/englishdriverhandbook.pdf