Can I Get Workers' Comp Benefits for Auto Accident Injuries?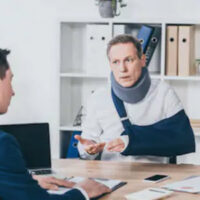 When you think about the most common factors behind workplace injuries, slips, falling from a height, and being struck by an object would probably top the list. However, data collected by the U.S. Department of Labor's Bureau of Labor Statistics reveal that motor vehicle accidents are a serious concern. Traffic-related crashes cause around 40 percent of all work-related fatalities, putting them in the Number 1 spot. Many other employees are injured every year in collisions, leading to sky-high medical bills, lost wages, and other consequences.
If you were hurt in an on-the-job auto collision, you may qualify to obtain monetary benefits under Florida's workers' compensation system. Unfortunately, you could encounter challenges in the claims process, as your employer and its insurance company will probably assert that the incident is not work-related. There is a fine line between accidents that are covered and those that are not, so you should trust an Ocala workers' compensation attorney to handle the details. Some general information on car accidents at work may also be useful.
Workers' Comp Laws Cover Work-Related Auto Crashes: The default rule under Florida workers' comp system is that you qualify for monetary benefits if you were injured in any workplace accident, including a vehicle collision. The critical issue is that the crash must have happened when you were performing job-related tasks within the scope of your employment. Examples include: 
Driving from one worksite to another;
Making a delivery to a customer;
Attending a meeting or sales call; and,
Running work-related errands as directed by your employer.

Workers' Comp and Florida's "Going and Coming" Rule: There are certain circumstances which depart from the default rule, meaning you will not qualify for workers' comp benefits. One issue that leads to many disputes in the claims process is the "going and coming" rule that typically applies during your commute. You would not be eligible if you were on your way to work or heading home, based on the theory that you were not performing job tasks at the time of the accident. There are several exceptions to the rule, so you could qualify for benefits if: 
Your employer pays for your transportation to and from the work site;
Your employer instructed you to take care of a job-related errand while commuting;
You were engaged in a combination of personal and work tasks when the accident occurred; or,
The crash happened on property under the control of your employer, such as a parking lot, driveway, garage, or related space.

Discuss Your Options with an Ocala, FL Workers' Comp Lawyer 
It can be frustrating to fight with your employer and a workers' comp insurer after you were hurt in an on-the-job auto accident, which is why it is important to retain a knowledgeable Ocala workers' compensation attorney to handle the claims process on your behalf. To learn how we can help, please contact the Musleh Law Firm at 352-732-0600 or via our website. We can set up a no-cost case evaluation at our office to review your situation.
Resource:
bls.gov/news.release/pdf/cfoi.pdf
https://www.ocalalawyer.com/pros-cons-of-settling-a-florida-workers-compensation-claim/