Floridian Sentenced For Role In Workers' Compensation Related Conspiracy Scheme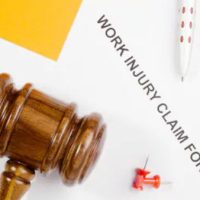 As all Floridians are aware, the tropical storms that come through Florida can leave extensive property damage in their wake. This leads to a regular, immediate need for construction services. With all of the construction taking place in Florida, the people in this state are more vulnerable than other areas in the country to fall victim to construction schemes, and related workers' compensation schemes. It is wise to take due diligence before beginning a business relationship with any party, and doing what you can to avoid issues or workers' compensation litigation down the road.
This concept was starkly illustrated this week when a U.S. District Judge sentenced Florida man Ricky Gonzales to 48 months in prison for his part in a conspiracy to commit wire fraud and defraud the United States in a scheme involving fraudulent dealings with both contractors and workers' compensation insurance companies. Mr. Gonzales was further ordered to forfeit $500,731.13 as the proceeds of the wire-fraud conspiracy.
Mr. Gonzales was the owner and manager of a construction company that supplied construction services for contractors and subcontractors. To be in accordance with Florida law, the company was required to secure and maintain workers' compensation insurance coverage that was adequate to cover its employees. However, Mr. Gonzales actually formed agreements with contractors to use undocumented immigrants who were working as employees for, and were under the daily supervision and direction of, the contractors and subcontractors. Gonzales would then regularly receive the payroll checks from contractors to be cashed in order to pay for the Employees that Gonzales purported to employ, and to cover related expenses.
Gonzales utilized this structure to falsify information and fraudulently represent to insurance companies that he had a very limited number of employees that required coverage for working on construction jobsites. He also falsely and fraudulently represented in wire communications to various contractors that all of his workers had full workers' compensation insurance coverage.
Despite the small number of workers and payroll claimed by Gonzales in communications with Insurance companies for workers' compensation benefits, Mr. Gonzales actually collected over seven million dollars in checks for payment of the services rendered. This resulted in the workers performing on jobsites without being adequately covered with workers' insurance coverage. This not only resulted in workers performing without insurance coverage, but insurance companies also were not being paid the required premiums, and the IRS did not collect over one million dollars they were owed in employment taxes. Per the HIS Tampa Assistant Special Agent in Charge of the case, by undervaluing workers' compensation policies, Mr. Gonzales profited by "renting"  the policies for a fee from the paychecks of non-citizen workers.
Contact the Musleh Law Firm
Here at the Musleh Law Firm, we know our clients have done everything in their power to provide for themselves and their families. Our Ocala workers' compensation attorneys help our clients pursue the aid they are entitled to. Contact our experienced Ocala workers' compensation attorneys today and speak with a member of our team to see how our experience can work for you.
Sources:
justice.gov/usao-mdfl/pr/seffner-man-pleads-guilty-conspiracy-commit-wire-fraud-and-conspiracy-impede-and
workerscompensation.com/news_read.php?id=42104
myfloridacfo.com/division/wc/