The "Fatal 4" Put Florida Construction Workers at Risk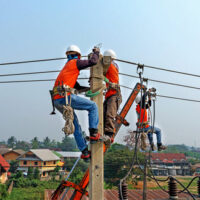 When you consider the dynamic, dangerous nature of the construction worksite, you may not be shocked to learn that accidents can cause serious injuries for Florida construction workers. In fact, some workplace incidents are so common and extreme that they have earned the nickname the "Fatal Four" by the Occupational Safety and Health Administration (OSHA). These construction accidents caused 58.6 percent of all worker fatalities in 2018, and it is estimated that 591 lives would be saved by eliminating these risks.
Unfortunately, it is not practical to completely eradicate the Fatal Four construction accidents that constitute such a high percentage of injuries and deaths. They will remain a threat, so it is good to know that victims and their families have rights under Florida law. An Ocala workers' compensation lawyer can assist with the legal process, but you should be aware of the risks of accidents in construction. 
The Construction Fatal Four and Safety Tips: One in five work-related deaths in the US every year involves an accident in the construction workplace. Excluding vehicle accidents linked to construction activities, the top deadliest incidents involve:
Falls: At 338 out of 1,008 total fatalities in 2018, falls from a height are the number one safety threat at the construction site. Employers are required to provide proper equipment, install preventative features, and conduct training to avoid accidents, but there are some tips you can use to protect yourself.
Always wear fall prevention equipment;
Cover openings; and,
Use proper precautions on ladders and scaffolding.

Being Struck by an Object: Though it comprises just over 11 percent of all worker deaths, being struck by an object that was falling, swinging, rolling, or airborne is still a significant risk. Plus, these incidents were on the rise in 2018, a 3 percent increase over 2017. To avoid injuries, do not position yourself between a fixed and moving object, and always wear high-visibility clothing.

Electrocution Accidents: These incidents represent 8.5 percent of all construction worker deaths, which often occur from a failure to identify all sources of electricity, not attending to overhead power lines, and careless use of equipment and tools. Some safety tips to prevent electrocution include:
Locate all electrical sources before starting work;
Pay attention to overhead power lines;
Do not operate electric tools unless they are grounded; and,
Use extra caution when working around electricity on a ladder, scaffolding, or other heights.

Being Caught in or Between Objects: This Fatal Four category covers accidents in which a worker is killed when struck or compressed by equipment or objects, or being crushed by a cave-in. Protect yourself from harm by:
Not entering an excavation site without protective equipment in place; and,
Confirm that a trench is properly shored up before entering.
Discuss Construction Accidents with an Ocala, FL Workers' Comp Attorney 
If you were hurt or lost a loved one in any type of construction accident, you may be eligible to obtain medical costs, wage replacement, disability, and many other workers' compensation benefits. The specifics will depend on your situation, so reach out to the Ocala workers' compensation lawyers at the Musleh Law Firm for more information. You can set up a free consultation at our office by calling 352-732-0600 or visiting us online.
https://www.ocalalawyer.com/what-is-mmi-and-how-does-it-affect-a-florida-workers-comp-claim/