Statistics on Bicycle Accidents in Florida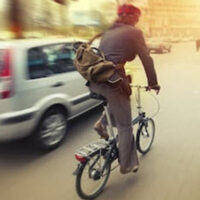 While the rest of the US is battening down for a long, cold winter, many Floridians are gearing up for some of the best weather of the year. Bike riding is a four season activity in the Sunshine State, whether you cycle for your commute, exercise, or fun. Unfortunately, its year-round popularity may also put you at a higher risk of being hurt in a bicycle accident. In fact, the Florida Department of Highway Safety and Motor Vehicles (FLHSMV) reports that there have already been 51 bike riding crashes in Marion County so far in 2020 – two of which were fatal.
Statistics on bicycle accidents can be helpful for bicyclists, since the numbers predict trends that are useful for planning your journey and taking extra precautions. You should always rely on an Ocala bicycle accidents attorney to assist if you were hurt, but reviewing the data is important. 
Statistics Reveal the Dangers of Bicycle Accidents: Data regarding bike collisions should be of particular importance to anyone living in Florida, the #1 US state for fatal bicycle crashes. The National Highway Traffic Safety Administration (NHTSA) reports that, of more than 850 cyclists killed every year nationwide, 125 deaths occur here. In addition:
Bike collisions are most likely to occur between 6 p.m. and 9 p.m., an important point to note as the days get shorter in the fall.
Males are more likely to be killed in bicycle accidents as compared to females.
Alcohol is a contributing factor in approximately 37 percent of all deadly bike crashes.
Based upon a three-year average, there are 63 bicycle collisions in Marion County, leading to three deaths and 55 injured victims. In other words, 92 percent of all bicycle accidents lead to a fatality or injury to the rider.

Common Injuries for Bike Riders: The most devastating trauma in bicycle crashes is head injuries, which are obviously more likely to be serious if the victim is not wearing a helmet. However, injuries to the lower extremities are quite common due to where a motorized vehicle may strike the bike and rider. Plus, a bicyclist is almost always tossed from the bike, leading to a secondary impact that can be even more forceful. A rider may suffer from:
Broken bones;
Scrapes and lacerations;
Bruises;
Road rash from the skin skidding across pavement, a painful injury that combines a burn and abrasion;
Trauma to internal organs; and,
Many other serious injuries.

How to Recover Compensation for Your Losses: Your rights as an injured bike rider work similarly to a car accident scenario, in which you pursue a negligent motorist for monetary damages. Through an insurance claim or litigation, you may be entitled to receive amounts for your medical costs, lost income, pain and suffering, and other losses.
 Reach Out to an Ocala, FL Bicycle Accidents Lawyer 
If you were hurt or lost a loved one in a bike crash, please contact the Ocala motor vehicle accident lawyers at the Musleh Law Firm to discuss your legal remedies. You can reach our offices by calling 352-732-0600 or via our website. We can schedule a no-cost case evaluation to review your circumstances and explain your legal remedies.
Resource:
flhsmv.gov/traffic-crash-reports/crash-dashboard/
https://www.ocalalawyer.com/avoid-mistakes-with-medical-care-after-a-florida-car-accident/