Have You Slipped And Fallen At Work?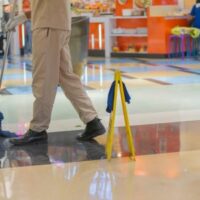 If you have suffered injuries and lost wages due to a slip-and-fall accident at work, you are not alone. Nearly 250,000 employees are injured in slip-and-fall accidents each year seriously enough that they require time off of work to recover. Nearly 900 will never recover, and die as a result of their injuries. The majority of these accidents occur in the construction industry. While many of the slips and falls are from significant heights, such as falling from a ladder or off of a roof, nearly 150 employees were killed by falls that happened on the same level. For instance, an employee who slipped and fell walking out of the breakroom, and fractured their skull as a result. Clearly every precaution must be taken when even same-level slips and falls can have fatal consequences, but often companies do not rise to the occasion and act with the appropriate level of care for their employees. This is not necessarily relevant to employees who qualify for workers' compensation and are barred from suing their employers, but independent contractors who are injured on the job may sue their employer if the employer was negligent in causing their injury.
Slip-and-Fall Injuries
Depending on the nature of your fall as well as your age and physical condition, you can suffer severe consequences as a result of slipping and falling at work. Some injuries include things like fractured bones, while other injuries can include spinal cord and neck injuries leading to paralysis, herniated disks, traumatic brain injuries, internal bleeding, fractured hips, and more. Slip-and-fall accidents are actually the leading cause of traumatic brain injuries. For this reason, it is important never to take a slip-and-fall accident lightly. You must inform your supervisor or employer immediately after an accident and seek medical attention as soon as possible.
How a Lawyer Can Help
It can be complicated figuring out what your options are after a workplace accident. If you are classified as an employee, you may need assistance fighting a workers' compensation claim denial or getting the coverage that you are entitled to. If you are an independent contractor then a lawyer can evaluate your claim to determine whether your employer or another party was negligent in causing your injury and can be held accountable. If you are bringing a workers' compensation claim against your employer as well as a lawsuit against a third party, your lawyer can advise you on how and when to settle your claim to avoid a negative impact on your workers' compensation.
Contact the Musleh Law Firm
If you have been seriously injured in a workplace accident in Ocala or the greater Florida area and you have been struggling to get the benefits, support, or compensation that you are entitled to, the experienced workers' compensation and personal injury attorneys at the Musleh Law Firm want to hear from you. We will review the facts of your case to determine the best path to recovery and will fight to get you the maximum possible settlement for your claim. Contact our Ocala workers' compensation lawyers today to schedule a consultation.
Resource:
nsc.org/work-safety/safety-topics/slips-trips-falls