What To Do After A Slip And Fall Accident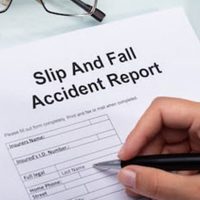 Of all the many different types of personal injury claims filed in Florida, those involving slip and fall accidents are some of the most common. Contrary to what many people think, slip and fall accidents are not minor and they can result in very serious injuries.
If you were hurt during a slip and fall on someone else's property, you can file a claim against them to recover financial compensation for your losses. To ensure you are successful with your claim, it is important to take the right steps after your accident, which are outlined below.
Locate Witnesses
Eyewitness statements are very important pieces of evidence in any accident claim. They provide an unbiased and objective account of how the accident happened, and what caused it. If there was anyone around when you slipped and fell, such as other customers in a store, ask them for their name and contact information. Your lawyer will use this later to prove your claim.
Report the Accident
When a slip and fall happens on someone else's property, it is important that you tell them about the accident. If the accident occurred on commercial property, such as in a restaurant or store, the property owner or manager may ask you to fill out a report. If they do, always ask for a copy of it. Even if your slip and fall happened on private property, such as while you were visiting at a friend's house, still tell them about the accident.
Take Pictures
Pictures of the accident scene are always useful as evidence because they can show how the accident occurred. Take pictures of anything that is relevant to your accident, such as the spill on the floor that made you fall, or a freshly mopped floor that did not have a sign warning customers of the slippery surface. Take as many pictures as you can of the accident scene from different angles, as well as photos of your injuries.
Seek Medical Attention
Your safety and well-being is the most important priority after a slip and fall accident, so it is important to see a doctor as soon as you can. Even if you do not think you sustained serious injuries, it is important to seek medical attention. A physician will perform a full examination and identify any injuries you may not know you had sustained. Seeing a doctor soon after the accident will also protect your claim. If you do not, the insurance company providing coverage to the liable party will argue that you were not injured because you did not see a doctor.
Call Our Slip and Fall Lawyers in Ocala After the Accident
Slip and fall accidents fall under the area of premises liability law, and these claims are very difficult to prove. At Musleh Law Firm, our Ocala slip and fall lawyers will collect evidence that will prove your case and help you obtain the maximum damages you are entitled to. Call us now at 352-732-0600 or contact us online to schedule a free consultation.
Sources:
leg.state.fl.us/statutes/index.cfm?App_mode=Display_Statute&URL=0700-0799/0768/0768.html
leg.state.fl.us/Statutes/index.cfm?App_mode=Display_Statute&URL=0700-0799/0768/Sections/0768.0755.html