How To Get Workers' Compensation For A Machine-Related Injury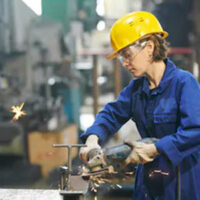 Heavy machinery and large pieces of equipment are necessary in many fields, including manufacturing and construction. These pieces of machinery also expose employees to huge risks. In fact, over 34,000 employees each year suffer injuries as a result of machine-related accidents, and many of those employees have to undergo amputations as a result. An additional 6,200 employees each year are killed due to machine-related injuries. If you have suffered a serious injury or had to have an amputation due to a machine-related accident at work, you are likely entitled to workers' compensation benefits. These benefits cover the cost of medical care and treatment for your injury, and wage replacement in the event that you require time off or are unable to work due to your injury. So how do you get those benefits? We'll go over that here.
How to Get Workers' Compensation Coverage
The first step to get workers' compensation coverage is to report the injury to your supervisor or employer. You should do this as soon as possible after the accident. It's important to note that you only have a limited period of time to report your injury to your employer, after which you will no longer be able to bring a claim. For this reason, you should notify your employer as soon as possible and ensure that you have documentation that you reported the injury in case they later claim that you did not (an email is fine). The workers' compensation insurance company will then make the decision of whether to approve or deny your claim. If your claim is denied, don't worry. It is relatively common for valid claims to be denied initially, and you are able to file a petition. Although you can't sue your employer, a workers' compensation lawyer can help ensure that your claim is approved and can negotiate a fair settlement and make sure you get the benefits that you are entitled to.
Contact the Musleh Law Firm
If you have suffered a work-related injury and are struggling to get the workers' compensation benefits that you are entitled to, contact the Musleh Law Firm and schedule a consultation today. Our Ocala workers' compensation attorneys can help you today.
Source:
bls.gov/opub/mlr/cwc/worker-fatalities-from-being-caught-in-machinery.pdf