5 Types of Distracted Driving That Do NOT Involve a Cell Phone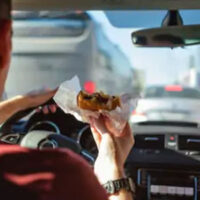 By now, several years after the dangers of cell phone use while driving became apparent, motorists are very aware of the risks of texting, talking on the phone, surfing the internet, and posting to social media. In an ongoing public awareness campaign, the Florida Department of Highway Safety and Motor Vehicles (FLHSMV) outlines the three categories of driver distraction that are present when a motorist uses a phone: The implications are visual, manual, and cognitive – a potentially deadly combination.
However, in reviewing these factors, you can probably see that there are other types of activities that are dangerous because they tend to distract motorists from safe operation of a vehicle. To better protect yourself, you should make note of additional acts that increase the potential for Ocala distracted driving accidents. 
Eating and Drinking: It is tempting to grab a cup of coffee on your commute, enjoy lunch while running errands, or guzzle water after working out. Unfortunately for your time-saving goals, eating and drinking take your attention away from driving because they involve all three categories of distraction. The refreshments can wait until you reach your final destination.

Interacting with Others in the Car: You might be up for some great gossip or want to know about your child's day at school, but becoming deeply embroiled in a conversation can be dangerous. Other interactions that can interrupt your attention span include:
Helping children with seatbelts;
Diffusing arguments among children;
Driving with a pet on your lap; or,
Digging into a bag or purse.

Adjusting the Radio or Music: Driving around town can be an enjoyable experience with some music or talk radio, and passive listening is rarely a problem. However, a motorist can create a risk of accidents by:
Changing the station;
Fast forwarding or rewinding music clips;
Searching for a song on your mobile device; or,
Streaming podcasts.

Using a GPS or Navigation Device: A GPS is an effective tool for providing directions and offering information about traffic, but this device – which operates in similar fashion to a cell phone – can affect all three driver distraction categories. Handle all set up before you leave and pull over if you need to make adjustments.

Grooming: Another multitasking activity is a particular concern among motorists during the morning commute, as they are applying makeup, combing hair, and checking teeth on the way to work. If you spot someone swerving or driving erratically, there is a chance he or she is glancing at the mirror while grooming.
Trust an Ocala, FL Distracted Driving Accident Attorney to Protect Your Rights 
If you were hurt in an auto collision caused by cell phone use or one of these other forms of distracted driving, it is essential to reach out to an experienced car accident lawyer right away. To learn how our team at the Musleh Law Firm can assist with your legal remedies, please call 352-732-0600 or visit our website. Our Ocala distracted driving accident attorneys can advise you on your options after conducting a free consultation at our offices.
Resource:
flhsmv.gov/safety-center/driving-safety/distracted-driving/#:~:text=Section%20316.305%2C%20Florida%20Statutes%20allows,that%20are%20texting%20and%20driving.&text=A%20person%20may%20not%20operate%20a%20motor%20vehicle%20while%20using,or%20active%20work%20zone%20area.